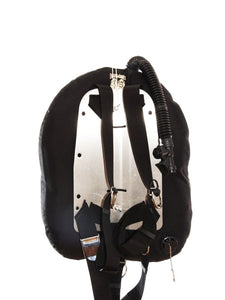 Light Monkey Single Tank Adapter, Aluminum Backplate and Harness NO WING
Light Monkey
Regular price $399.99 Sale
Aluminum Backplate ​
​Brushed black anodizing provides corrosion resistance to salt water 
 All edges and cutouts have been machined to give a nice beveled edge which gives your webbing a longer life
 Weight - 1.7 lbs (.7 kg)
 If the backplate is purchased with a harness, the harness comes completely webbed up; just a few simple adjustments are needed to size it properly before you are ready to hop in the water.
Wings
Light Monkey wings are 100% manufactured in the USA and the final assembly takes place in our factory in Lake City, Florida. We use the highest quality materials available.
The outer bag is 1680 denier ballistic nylon, chosen for its tear strength and abrasion resistance.
The bladder is 15mil virgin medical-grade polyether urethane. Polyether (as opposed to polyester) is better suited for water-exposed applications.  Its stretch prevents point loads on the welds and is the best fit with our denier ballistic nylon outer bag; this makes for a much quieter wing than nylon-laminated bladders.
The zipper is a 10mm Vislon non-corrosive zipper with locking slider. This is a standard in zippers for marine applications. You will find the same one on boat tops, sail covers, etc.
 Wings include a 13" (33 cm) crushproof hose, two EDM bands for hose routing, and a standard k-style power inflator.
28 lb Wing​
​The 28 lb wing is the perfect size for single tank rigs or a rebreathers; the donut shape provides all-around lift.
 The wing includes a 13" crush-proof hose, two 2" EDM bands for hose routing, and a standard K-style power inflation valve.
 The 28 lb wing does not have slots for tank bands, as it is designed for use with a single tank adapter.
Single Tank Adaptor
The Light Monkey Single Tank Adaptor (STA) is a great way to secure a wing to the backplate. Running cam straps through the wing and backplate can leave your wing floppy; the STA holds it together tightly.
The cam straps that come with our single tank adaptor have 2" resin-reinforced webbing and stainless steel cam buckles.