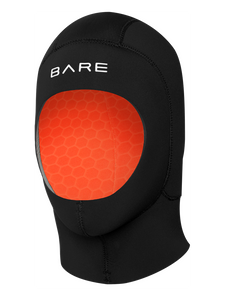 BARE 7/5 ULTRAWARMTH DRYSUIT HOOD - XL in stock
Bare
Regular price $98.00 Sale
Ultrawarmth Dry Hoods feature high-loft Ultrawarmth Omnired™ Infrared Thermal Technology embedded in the inner fabric. Omnired™ is scientifically proven and FDA-determined to conserve body heat and accelerate thermal recovery. ELASTEK outer fabric provides heat retention and superior warmth. Designed specifically to mate with the BARE drysuit collar, Ultrawarmth Dry Hoods fit comfortably, resist flushing, and are excellent additions to any dive kit.
FEATURES AND BENEFITS
High-loft Omnired™ inner fabric with ELASTEK full-stretch outer fabric
ELASTEK/GLIDESKIN-IN trimmable face and neck glides nicely over hair
Hood neck seal mates with drysuit seal
GEN2 hood vent allows trapped air to escape and prevents water entry
Mask strap grip pad on the back of the hood secures mask strap in place
Double-glued and blindstitched with SECURELOCK construction improves isolation and reduces flushing for warmer, longer dives.