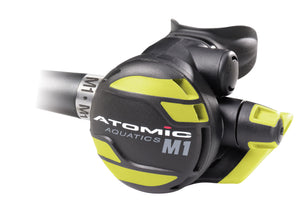 Atomic M1 Octopus
Atomic
Regular price $376.00 Sale
THE PERFECT OCTO FOR EXTREME CONDITIONS
NOTE THIS COMES WITH AN EXTRA FACEPLATE SET IN GREY.
Extreme diving makes having an extraordinary Octopus even more important. The Atomic M1 OCTO is a Safe Second that performs equal to its M1 primary dive buddy. Cave diving, cold water and rough water conditions demand backup systems divers can count on when needed. The M1 OCTO delivers confidence in extreme situation
The M1 Safe Second is factory rated for EAN mixtures up to 80% Oxygen. The demand valve body is Zirconium plated brass for fast thermal transfer with a heat sink feature to reduce the possibility of freezing in cold water.
Designed for cold water diving featuring thermal heat sink and super-dry exhaust valve.
Patented Atomic AFC – Automatic Flow Control with Rapid Adjustment Knob for manual detuning in special situations.
Patented Atomic Titanium Seat Saving Dynamic Orifice prevents wear of the low-pressure seat that extends the service interval and improves reliability.
Surge-protected front cover for high current scenarios.
Super-wide exhaust deflector to disperse bubbles.
Bright Neon Yellow flexible front cover for high visibility.