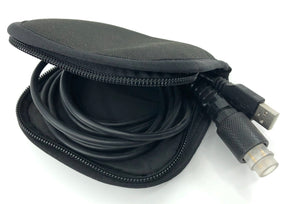 Hollis Explorer - Mk1 USB data cable / charger and pouch - 25550
Hollis
Regular price $98.00 Sale
Hollis Explorer Download USB cable assembly and pouch for the Mark 1 Mk1 NOT Mk2 Explorer - Spare Part 25550
Hollis Explorer Mark 1 USB cable assembly and pouch - Hollis part number 25550. each Rebreather requires one of these cables for data connectivity.
You can also charge the Hollis Explorer MK1 using this cable from a USB charger or PC/Laptop.
It is very important not to over tighten the connector when you attach it to the Hollis Explorer MK1 as this can cause the pins to be pushed to hard into their spring loaded sockets and jam. This normally requires a replacement as once the pins are jammed they do not normally pop back out.
Also it is important to make sure you keep the pins dry and away from salt water or the wet. I guess people attach the unit to a cable after diving without properly drying the connector/socket on the LSS and this then corrodes the pins making the charger/data cable useless.
The Hollis Explorer MK2 USB cable has a different bayonet style connector and so there should be less problems with pins jamming.