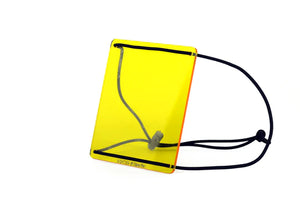 Light and Motion Nightsea Camera Filter
Light and Motion
Regular price $61.00 $31.00 Sale
The box is rather beat up, just so you know. The product is in perfect condition. 
This camera filter is the key to the Nightsea experience by blocking out blue light to make fluorescence visible.
Nightsea Camera Filter
Underwater fluorescence uses lights illuminating with blue LEDs to cause proteins and minerals to fluoresce brightly.  To properly view the Nightsea experience, this yellow camera filter completely blocks out the visible blue light to view the psychedelic and brilliantly saturated colors and patterns of fluorescence.
Features
Yellow barrier filter blocks visible blue light to properly see fluorescence
Nightsea Mask Filter comes standard with the Sola Nightsea; not included with the GoBe Nightsea