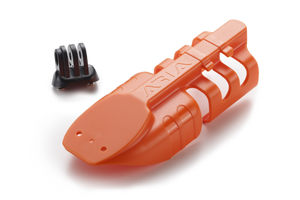 Ocean Reef Accessories Holder with Camera Support
Ocean Reef
Regular price $29.00 Sale
The Camera Support is designed to mount your action camera on top of your mask.
Attach sport cameras with either the GoPro compatible support or your own sticker (sold with camera).
The holder clamps on ARIA's snorkel and slides in place with a click. 
You can remove it while snorkeling for selfies or close ups. The design and positioning of this support assure great footage (the camera is actually underwater and the angle can be easily adjusted). 
Chemical lights can be attached to the support for cool looks and safer dusk and dawn snorkeling. 
The accessory holder is also ready to equip a Marker Wing accessory of your color choice.
The Accessory Holder comes with:
1. Clamping body
2. Adapter for GoPro styled fittings.
3. Blind nut.
4. Inox screws.