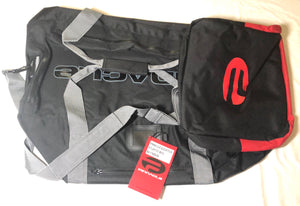 Pinnacle Atlantic Bag
Pinnacle
Regular price $61.00 $31.00 Sale
Simple, light, tough duffel bag.
The Pinnacle Duffel is a basic duffel style bag easily large enough for a complete set of cold water gear and versatile enough to be used for travel, camping, and dozens of other outdoor activities. 

-6,240 cubic inches of total storage space (32" x 15" x 13") 
-Large duffel style bag 
-Front small-item pocket 
-Namecard holder 
-Zippered end pocket for storage 
-Reinforced shoulder and hand-carry straps 
-Rust-proof zippers 
-Grommeted drain hole 
-Great for diving, travel, or any sporting activity
The picture is not very good but the price makes up for it. This looks very similar to the Pinnacle Pacific bag and that has a much nicer picture that displays the product better.