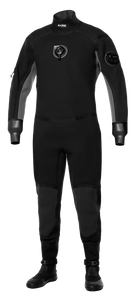 BARE SENTRY PRO DRYSUIT- STOCK
Bare
Regular price $3,699.95 Sale
Sentry Pro Dry is a back zip drysuit that combines thermal and operational capabilities to meet the demands of commercial divers, with the flexibility and comfort of a tropical wetsuit. Constructed with high density Yamamoto neoprene with high stretch and high resistance to compression, and BARE's new and improved No Stitch Technology (NST), Sentry Pro Dry retains one of the highest abrasion resistance ratings in the BARE line.
Choose the perfect size for you here https://www.baresports.com/size-charts/
FEATURES AND BENEFITS
No Stitch Technology (NST) For Durable Seam Construction
Anatomically Shaped Torso, Arms and Legs
2mm Nylon Smoothskin "Smart Collar"
Lightweight and low profile YKK Plastic Dry Zipper
Redesigned Tech Pockets (optional add-on)
TECHNICAL SPECIFICATIONS
Material:
2mm Yamamoto High Density Neoprene – Hyper-compressed for optimum resistance against deep-water high-pressure compression
Kanako Outer Layer increases suit longevity, durability and comfort
Innovation:
No Stitch Technology (NST) – seams are double-glued and heat taped inside and out for superior performance and optimal the life of your drysuit.