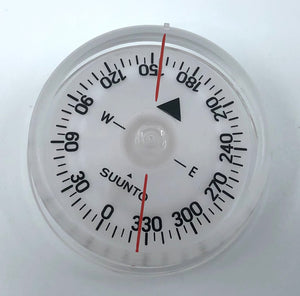 Suunto SK-8 compass guts Northern Hemisphere
Suunto
Regular price $39.00 Sale
The Sk-8 compass is an amazing compass. It can be at a larger tilt and not stick long after other compasses stop working. It can be a challenge to know that you are flat in a 3 dimensional environment. BUT it is a little more delicate than other compasses. Just a little more care is needed. So here is the guts to the compass. You can change the guts yourself for a lot less than buying a new compass !!
HIGH QUALITY LIQUID-FILLED DIVE COMPASS
SK-8, the latest edition of Suunto's leading dive compass, delivers even better underwater performance with faster stabilization and enhanced readability. Both northern and southern hemisphere models can be used over a wider area of the globe thanks to an upgraded magnet.
PRODUCT HIGHLIGHTS
The world's most popular dive compass
Phosphorescent compass card
High tilt compensation
Made in Finland